VOQ Training: Purchase the Book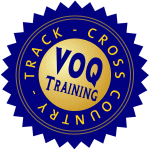 For the cost of a small meal, you can own dkap's secret recipe! VOQ Training for Cross Country & Track is available in both eBook and printed formats. The eBook provides immediate access and a lower price, while the print option gives you the traditional "book feel" and ensures that all of the charts and layout elements look exactly as intended.
You may choose from these formats/sources of VOQ Training currently:
The Print-on-Demand edition is printed when you order it and is equal in quality to what you would see in a bookstore (guaranteed). Estimated delivery dates are much longer than they tend to actually take; books will typically arrive in your mailbox within a week of placing the order. CreateSpace does the printing, so orders via Amazon will actually be placed through them. My fees are higher when ordering the Print edition through Amazon, so if you're purchasing just VOQ Training by itself, please do so through the CreateSpace link.
The Kindle eBook version is set up to work with all versions of Kindle, including v1 which does not support tables. This requires the workout charts to be displayed as images, and some clarity is lost at certain resolutions as a result. If demand warrants it, a separate version may be released for Kindle v2+.
Supplemental Work for VOQ Training isn't quite ready for distribution yet. Please check back or sign up for the free newsletter to receive release updates and special offers.
Bulk purchase discounts, print edition:
2 copies @ $11.50 ea, 3 @ $11.00 ea, 4 @ $10.50 ea, 5+ @ $10.00 ea. check current s/h rates.
Your order will be manually processed to receive the above discounts. Inquire for payment options.
Need a Kindle eBook reader? Here are a few options: