VOQ Training: Testimonials / Reviews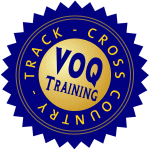 Reviews:
---
"This little gem is ... both innovative and comprehensive ... I feel safe recommending VOQ to any and all trying to flesh out their library, especially those who need to inject some different perspectives into stagnant thought patterns or philosophies." - Russ Ebbets, editor Track Coach magazine (part of Track & Field News and USATF), Winter 2012 Issue #198. Click here to read the full review.
"Your book thus far has helped me more than any resource I have used in coaching. And I have studied a lot of resources!" - Jimmy Sorrells, Cross Country and Track & Field Coach, Flowery Branch HS, Georgia.
"[VOQ Training] has a lot of foundation to what, when, where, how and why - more than most do." - Kelly Sullivan, Head Cross Country and Track & Field Coach, Oregon State University. USATF Men's Distance Development Chair 1992-2004.
"Sometimes we have to think out of the box to get success. Ask questions. Trust no one. So when I read Dan Kaplan's VOQ Training for Cross Country & Track, I have to admit it was a refreshing read. In this book, you have a coaching manual from a live, real, complete season with all the workouts, and detailed explanation on the how's and why's each workout is being used. You have the daily and weekly workouts used for an entire season. How many coaches do that?" - Jimson Lee, SpeedEndurance.com.
"After 15+ years of competing at an elite level in Track & Field and Cross Country, it became apparent to me that there had to be an alternative to the 'three distinct seasons' cycle of training. For me it became a cycle of base, peaking and injury. The timing in which I came across Coach Kaplan's book was interesting, because it was only as I turned 40 that I realized that consistency and a long-term vision of training is the key. I encourage you to learn about what Dan refers to as the 'Inverted Pyramid' as I know that I, as well as dozens of elite runners, could have potentially had more fruitful, and certainly more injury-free careers. I do, truly, believe in the content in the book. Look at what the Kenyans do. They take a long life of running and hone it down to a fine focus. A huge base is key!" - John Schiefer, sub-4:00 miler @ U of Arkansas, 3x All-American (Mile/1500m), member of 6 NCAA Championship teams, internet T&F legend.
"Dan Kaplan has hit the nail on the head with this one. VOQ Training is the product of an expert coach giving his all for individuals who seek to find training routines that really work. The Inverted Pyramid philosophy allows focused flow toward peak performance. Thanks Dan for offering years of thought and expertise! This is a must read for all." - Dave Johnson, M.ED. Special Education, Decathlon Olympic Medalist, Corban University / Director of Athletics.
"Dan Kaplan has taken all the elements of sports science that running literature is stuffed with and produced a system which is simple to understand and easy to follow. VO2 max, Lactate Threshold, Aerobic Endurance are all taken care of and there's no confusion of 'what will I do today?' Follow the system and achieve your goals, keep the science and long winded explanations for when you have more time. Brilliant work Dan, I wish you well in all you do." - Amazon customer review, Jan 31, 2012.
"Very few training guides come out that have anything new to say. Most training/coaching systems focus on 'building a base' with long, slow distance. If you're one of those people who questions how hours and hours of slow running can prepare an athlete for running fast in races that last just minutes, then this book is for you. 'Volume of Quality Training' flips the LSD system around with a program focused on fast training for fast racing throughout the competitive seasons. The author presents a logical, systematic approach centered on maximizing the amount of quality running around race pace or faster. A practical, easy to read guide, this book is a fresh approach that leaves the dinosaur training models far behind." - Amazon customer review, Dec 25, 2012.
"The approach Dan takes to training is unique in the sense that it implements the type of scientifically-sound foundation proven to maximize athletic performance, while simultaneously providing the reader tools needed to foster the flexibility and personalization of training. Unlike other generic but sound training approaches, Dan preaches a perspective on training that can optimize the potential of even the most diverse athletes." - Travis Stiles (former athlete of Dan Kaplan's at Willamette University), Masters in Exercise Physiology and PhD in Biomedical Sciences, UC San Diego.
"Dan has coached all three of my kids and the bottom line is, he makes running fun." - Curt Everetts
"[It] turns traditional wisdom about year-round running on its head. I personally don't like taking breaks from speed training and I found VOQ Training to be a refreshing and well thought read for runners looking to improve performance on a year-round basis." - Aaron Olson, PaleoRunner.
"[VOQ Training] covers so much more than I would have expected." - Leo Reyes (former athlete of Dan Kaplan's at McKay HS)
---
Review copies have been distributed and links to reviews will be posted here as soon as they are available. If you operate a running website or publication and would like to review the book, please contact me with specifics.
If you've read the book and would like to submit feedback, you may do so here. Also, please consider submitting a review on Amazon or Barnes & Noble for the benefit of other shoppers.